Company takes delivery of two iONTRON eMixer ready-mixed concrete trucks from Putzmeister 
CEMEX Germany are continuing to invest in more sustainable transport for their products having taken delivery of two fully electric, zero exhaust emission iONTRON eMixer ready-mixed concrete truckmixers from Putzmeister, which will become part of the Berlin truckmixer fleet.
The two vehicles are the first from Putzmeister to be used within Cemex globally and will be based out of the ready-mixed concrete plants in Spandau and Hohenschönhausen.
'We are reducing emissions throughout our value chain and transport plays an important role in this. For example, we are investing in the electrification of our vehicle fleet at our sites throughout Germany,' said Marcel Busch, director of materials at Cemex Germany. 'Additionally, the iONTRON eMixer offers high safety standards and low noise emissions.'
Karsten Struckmann, global key account director at Putzmeister, said: 'Our iONTRON eMixer stands for concrete transport with less environmental impact. With it, we want to enable our customers to become independent of conventional fuels, to act more sustainably and responsibly. The positive reactions to our iONTRON product family make it clear that sustainability and environmental protection are becoming increasingly important in the construction sector.'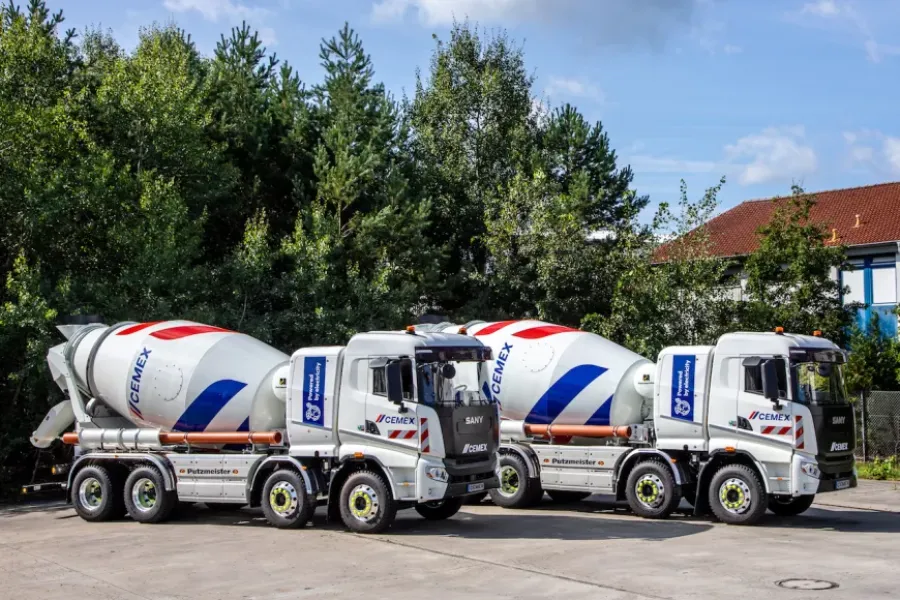 Cemex's new, fully electric, zero exhaust emission iONTRON eMixer ready-mixed concrete truckmixers from Putzmeister. Photo: Mehdi Bahmed – Concept Photography Berlin
The iONTRON eMixer is fully electrically powered, reducing carbon emissions by up to 100% depending on the local electricity mix. During vehicle operation itself, the 315kW e-motor produces no carbon emissions, either when driving to or working on the construction site, which can help urban air quality. The noise level is also significantly reduced by the electric drive; the almost silent driving operation offers advantages especially where strict noise protection regulations apply. The payload is the same as that of a conventional truckmixer.
Thanks to innovative technology, the battery capacity of the iONTRON eMixer is 350kWh: One battery charge is sufficient for a full working day of around eight hours with five to six tours in inner-city traffic. For more trips, the eMixer can be easily charged in between thanks to a standard CCS/Combo 2 plug. It recovers its full battery capacity overnight at a DC charging station in the ready-mixed concrete plant.
This project is part of Cemex's Future in Action programme, which focuses on achieving sustainable excellence through climate action, circularity, and natural resource management with the primary objective of becoming a net-zero CO2 company by 2050.