Major industrial companies join forces to drive net-zero transition across Derbyshire, Staffordshire and Cheshire
A WORLD-first project has been launched to create a net-zero future for the cement and lime industry. Located in the Peak District, the project will prevent more than 3 million tonnes of carbon dioxide emissions each year by 2030.
The project, named Peak Cluster, has been initiated by five cement and lime plants in the Peak District and Staffordshire Moorlands, owned by Tarmac, Breedon, Lhoist and Aggregate Industries, together with the Lostock Sustainable Energy Plant in Cheshire.
Carbon dioxide emitted from the cement and concrete industry accounts for around a quarter of the total emissions in Derbyshire and Staffordshire. With 40% of all UK cement and lime manufactured in the Peak District and local area, the project has the potential to dramatically reduce the sector's emissions to ensure the sustainable, net-zero future of this essential industry.
Led by Progressive Energy, Peak Cluster aims to capture and transport CO2 emissions from industrial plants in Derbyshire, Staffordshire and Cheshire before permanently locking away the carbon dioxide beneath the eastern Irish Sea in carbon storage facilities like the Liverpool Bay CCS or the recently announced MNZ Cluster.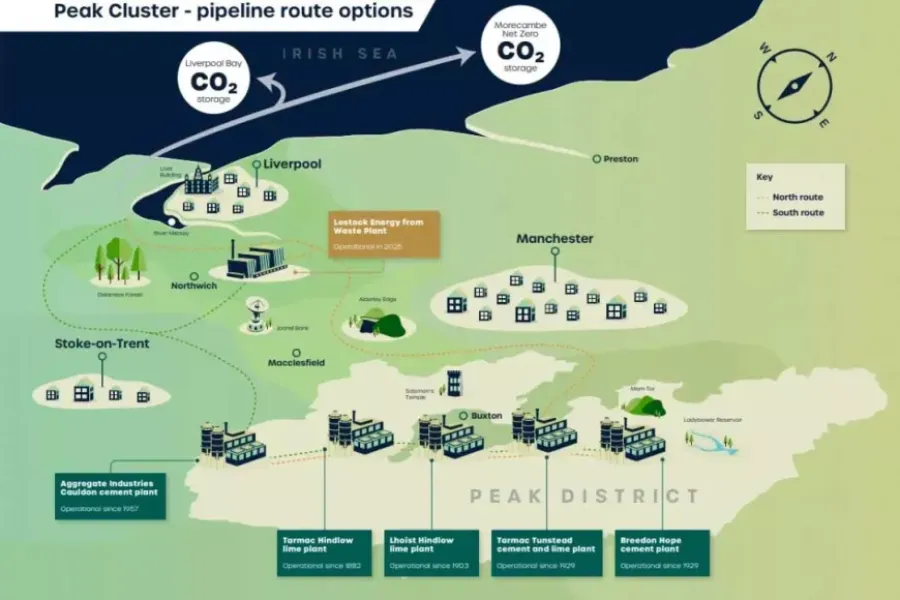 Peak Cluster launch map
John Egan, Peak Cluster project director at Progressive Energy, said: 'Peak Cluster will make a crucial contribution towards the UK's drive to net zero, making a serious impact on local, regional and national climate change targets. The project will help industry to continue to thrive into the future – safeguarding jobs, maintaining a booming supply chain and allowing current and future generations to continue to work in, and enjoy, this beautiful region.'
Dragan Maksimovic, chief executive officer of Aggregate Industries, whose cement plant in Cauldon, Staffordshire, employs 125 people and produces up to 1 million tonnes of cement a year, said: 'The cement industry hugely contributes to the economy and supports jobs nationally and locally at our Cauldon plant. As a key player in the market, we recognize our responsibility to drive sustainable transformation.
'Peak Cluster will help us and our partners cut annual carbon emissions by a quarter in Staffordshire and Derbyshire. That is a game changer. A key driver for our whole business is greening our operations and helping to lead the way in decarbonizing the industry. To become a net-zero business and to help the UK to reach its Net-Zero targets, we must take positive action now. Carbon capture, utilization, and storage is a vital component in that objective.'
Rob Wood, chief executive officer of Breedon Group, whose Hope cement works employs more than 200 people and is a significant contributor to the region's carbon dioxide emissions, commented: 'We are thrilled to play an integral role in Peak Cluster. Securing a sustainable future for the UK's cement industry will be vital if we are to achieve Net Zero as a country while also continuing to invest in our economy and deliver key infrastructure projects, new homes, schools, and hospitals.
'The construction sector offers major opportunities to help the world build as sustainably as possible and Breedon are committed to achieving net-zero carbon emissions. However, we must also look to support our local areas and the people that we employ. Peak Cluster is a truly exciting example of where all of these aims come together.'
Dr Diana Casey, director of energy and climate change at the Mineral Products Association, said: 'The launch of the Peak Cluster is an exciting and vital step forward in the journey of the cement and lime sectors towards net zero. The region is a historic heartland for cement and lime production providing highly skilled jobs for local communities, and a secure supply of essential materials to the UK economy.
'The UK Concrete and Cement Industry Roadmap to Beyond Net Zero highlighted the importance of carbon capture for the decarbonization of the cement and concrete supply chain and the Peak Cluster is an essential part of that transition. This launch demonstrates the commitment of cement and lime producers to transition to net zero to secure the future of these important industries, and the vital products they produce, in a net-zero world.'
More information on Peak Cluster is available here.