Flexible modular mobile batching plant for Lincolnshire-based concrete block start-up business
NORTHERN Ireland-headquartered Rapid International have supplied a new batching plant to Lincolnshire-based start-up business Geo Concrete Products – a subsidiary of Geo Quarries Ltd, who operate a quarry at Little Ponton, north of Colsterworth, near Grantham, producing and supplying high-quality quarried aggregates to the construction sector across England and Wales.
The concrete block-manufacturing business began operating in September 2022 after taking delivery of a Rapidbatch 120 mobile batching plant from Rapid International, who, since 1969, have been pioneers in game-changing mixing technology and today are recognized as one of the world's leading manufacturers of equipment for the concrete, construction and environmental industries. With a presence in more than 20 countries via an ever-expanding international dealer network, they are a trusted partner to a wide variety of customers ranging from multinational construction groups to small concrete producers.
'With any start-up business you want to do things right from the word go, so we spent a lot of time considering what plants were available in the market,' said Geo Concrete Products' general manager, Adrian Wright. 'In the end, we opted for the Rapidbatch 120 as it was far superior to anything else we had come across, and it was a decision we haven't regretted.
'The build quality of the batching plant cannot be faulted. The basic steelwork is that much thicker than any of its competitors, which was a prime reason for opting for the Rapidbatch. We are in this new business for the long term and we need our plant to be robust, reliable and capable of offering us longevity. The Rapidbatch ticks all those boxes, plus it's very easy to use, very easy to clean, with all its parts readily accessible, so yes, it's very user friendly.'
The high-capacity mobile batching plant, which offers outputs of up to 120m3/h, is fully galvanized and features an auto-greasing system and hard-wearing liners on the weigh belt conveyors and bin outlets. Its four bins offer a total capacity of 84m3, while the bin unit features enlarged outlets for quick charging. The plant also features an integral heavy-duty Rapid twin-shaft mixer offering short mixing times and high outputs, with an on-board control system that stores up to 100 recipes. Its flexible, modular design offers both in-line and 90° configuration options.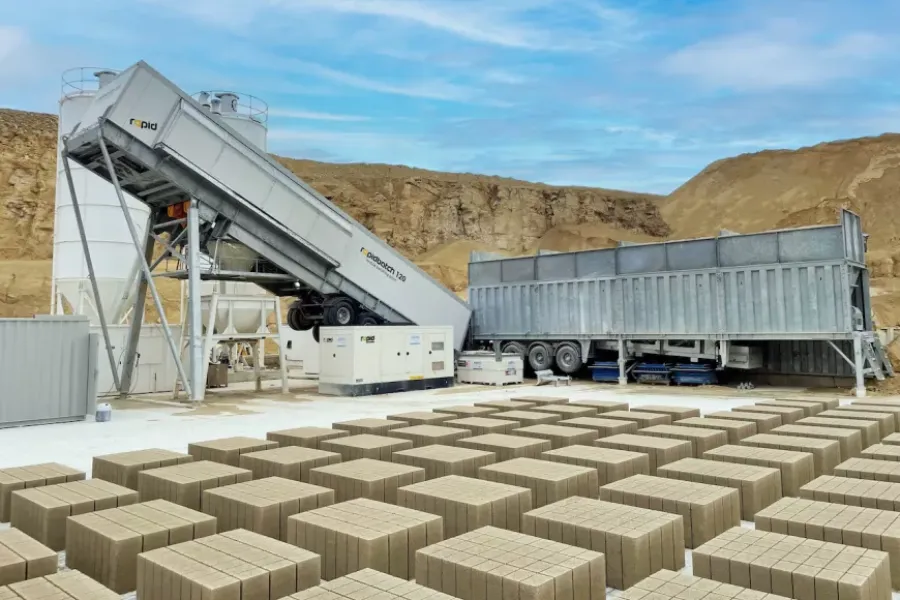 The concrete block-manufacturing business began operating in September 2022 after taking delivery of the Rapidbatch 120 mobile batching plant
As Geo Concrete Products discovered when taking delivery of the plant, set-up was quick thanks to its plug-and-play electrics, with installation requiring just a single crane lift and no foundations. Positioning space at the site was not an issue either because of the Rapidbatch's compact footprint.
The team at Geo Concrete Products were also impressed by the level of support and service provided by the manufacturer's team of highly qualified technical operatives and service engineers. 'Their after-sales service is fantastic and spare parts are always available. If ever we have any problems, we can fully depend on the team at Rapid to sort it without delay,' said Mr Wright.
Geo Concrete Products' commercial manager, Robert Godfrey, added: 'The batching plant operates on a continuous basis five days a week, turning out between 300 and 500 tonnes a day, but if a fault is showing up we only need to lift the phone to find out where the error is and quickly rectify the issue, which means any potential for downtime is kept to an absolute minimum.'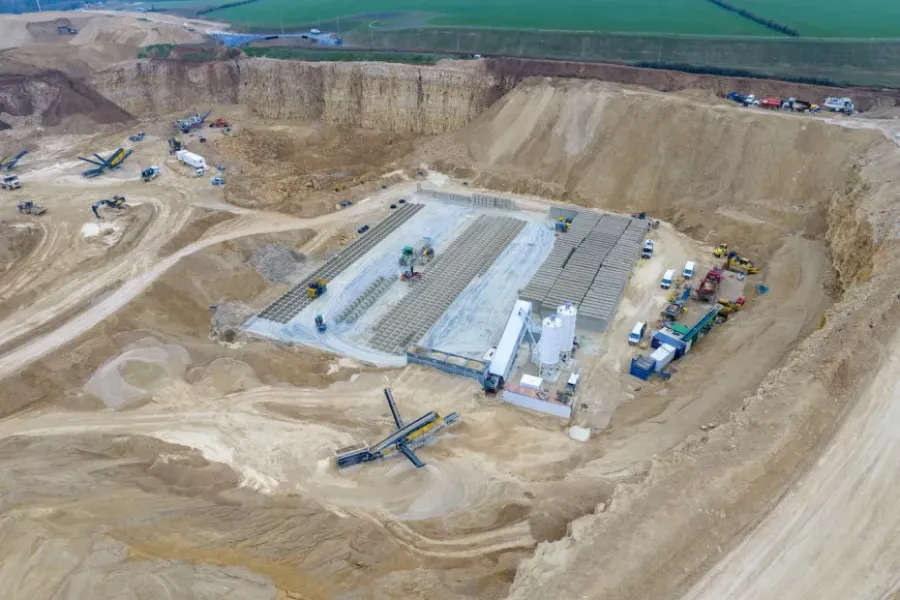 Geo Concrete Products' block-making facility is located within Geo Quarries Ltd's Little Ponton site
Geo Quarries Ltd say establishing the new concrete block production facility was a natural progression for the business, which continues to invest heavily in plant and machinery, processing around 15,000 tonnes a week and producing a range of innovative and much-sought-after construction materials, including aggregates, gabion stone, decorative aggregates, and geopave self-binding gravel.
Geo Concrete Products, whose Rapid batching plant is located within Geo Quarries' Little Ponton site, began manufacturing their product range in October 2022, including 100mm solid standard and paint grade, 140mm solid standard and paint grade, foundation blocks, and coursing bricks, all of which can be collected from site or delivered to customers on request.