Liebherr's new 31 XXT, the smallest pump type from the 30m series, features a compact five-part distribution boom, which provides maximum flexibility on smaller and cramped construction sites and is particularly beneficial when working indoors.
The 31 XXT's new LiDriveIn function allows it to enter buildings in standard operation with the arm package folded in front of the driver's cab. To bring the arm package folded forward, it is not necessary to swing out the outrigger legs, it is only necessary to move the cylinders downwards.
The machine operator lifts the cylinders again and can enter the building with the arm package in front of the driver's cab. Support can be added as needed, for example full, partial or single-sided support. 
Once inside the building, the boom can be easily unfolded in front of the driver's cab thanks to the short arm segments and the low unfolding height.
For load reasons, the LiDriveIn function is only available in combination with a four-axle chassis.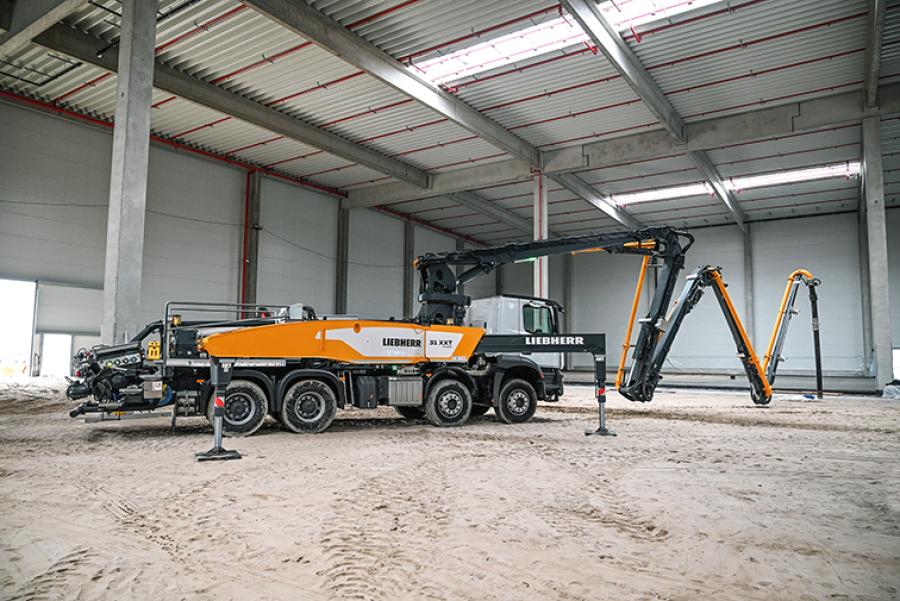 Hose and pipe storage system
The 31 XXTR's ingenious storage systems for hoses and pipes means around 90m of conveyor lines can be carried. After swinging out the outrigger legs, all bearing magazines are easily accessible. 
It is possible to store lines in diameters DN80/100/125. Due to the design of the magazine with individual pipes, each cable segment carried can be removed individually at will.
Powerbloc drive unit
A major highlight of the new 31 XXT is Liebherr's "tried and tested" Powerbloc pump drive unit. All hydraulic switching and measuring elements are fully integrated eliminating the need for several hydraulic hoses and other components previously required.
Reduced oil volume
The 31 XXT's new drive unit is combined with a highly efficient semi-closed oil circuit, which supplies all the machine's drives "powerfully and reliably" with hydraulic energy. As a result, the oil volume is significantly reduced.
The new system combines the advantages of the proven open and closed circuits currently on the market, without their respective disadvantages.
Other features of the 31 XXT include an LED lighting system for working in the dark, various storage boxes for materials and tools, as well as shelves for hoses and pipelines.